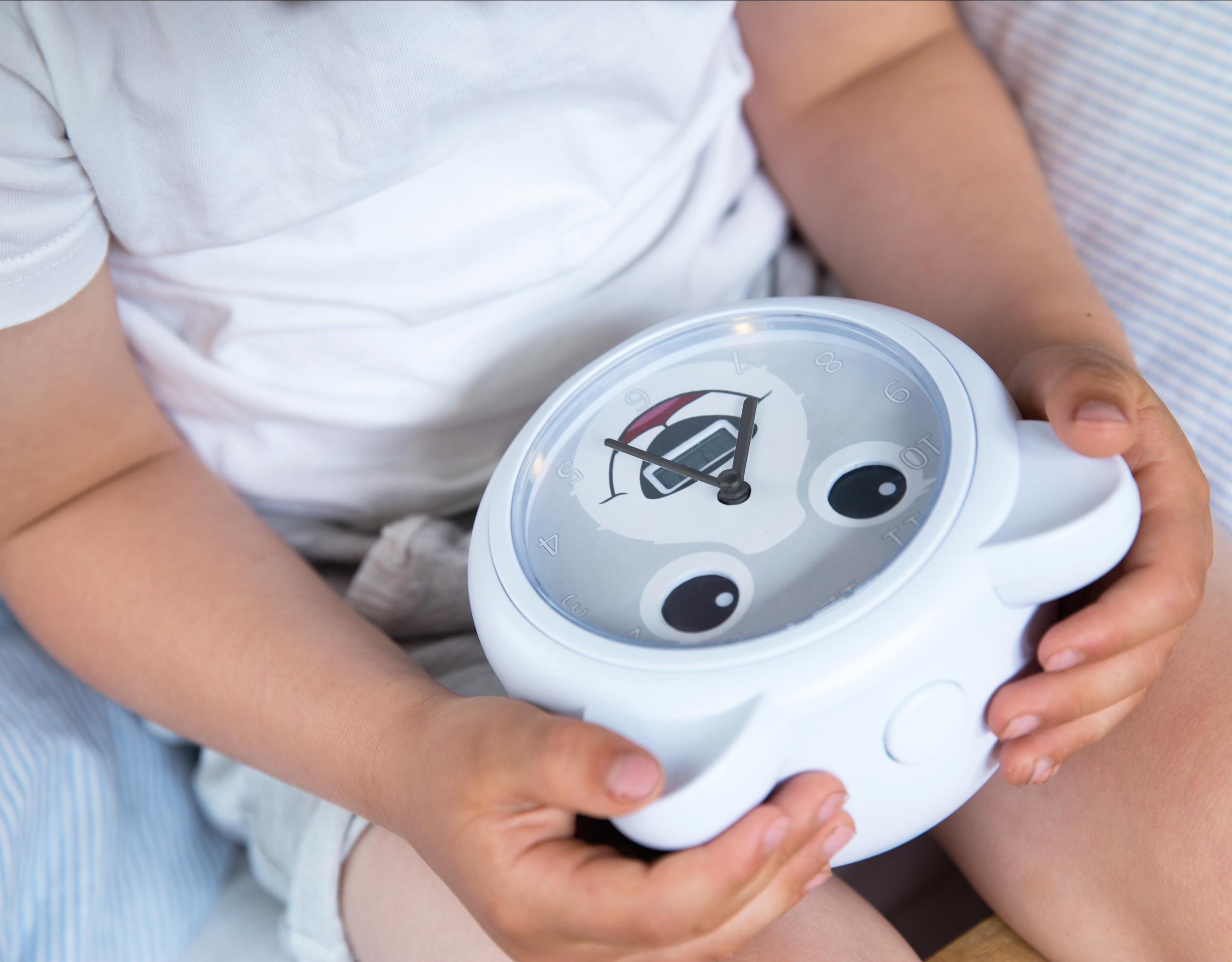 Bobby the Bear – Analogue and digital alarm clock
By Margot Buitenhoven
I don't want to sleep!
Babies and toddlers do not have the same sense of time as adults. The moment their eyes open, the little rascals want to start a brand new day with a lot of enthusiasm, although for mum and dad it is way too early… Often little ones do not understand why they have to go to bed in the evening. There is still so much to experience downstairs!
Bobby the Bear
Do you also have an overactive toddler that does not want to go to bed at night or wakes up every morning at the crack of dawn? ZAZU's Bobby the Bear is a sleeptrainer that helps your child to understand, in a playful way, when it is time to sleep and when it is time to wake up mum and dad or have to play in its room for a little while.
At the moment ZAZU has three different sleeptrainers and Bobby represents a friendly bear. When it is time to sleep, you can press the button on top of Bobby's head and his eyes close. Opens Bobby his eyes? Time to wake up! On Bobby's face you see an analogue clock and a smaller digital clock. It is easy to set the time with the control buttons on the bottom of Bobby. With these buttons you also set the OK-to-get-up time; the time when Bobby opens his eyes and the alarm goes off. You do not like an alarm sound?
You can manually set the volume of the alarm, from completely off to loud!
Advantages
This sleeptrainer has a larger analogue clock and a smaller digital clock and  is therefore also suitable for older children that can tell time.
The design is simple yet attractive and suits every nursery.
Bobby operates on batteries, so you do not need to put Bobby near a wall plug.
You can use Bobby also as an alarm clock instead of sleeptrainer.
The price is reasonable; the recommended retail price is less than 30 euro.
Disadvantages
The clock ticks rather loud. Some kids could be awakened by this sound.
When Bobby opens his eyes this is paired with significant noise, children could wake up by this sound even if they would have wanted to sleep a bit more.
This sleeptrainer does show light when the alarm goes off, but there is no built-in nightlight for during the night.
Conclusion
ZAZU's Bobby can be used as a sleeptrainer or as a normal alarm clock, meaning you can use this friendly bear for years to come. Because Bobby's face has a large analogue clock older children can use it perfectly to learn how to tell time. Unfortunately Bobby has no nightlight function which could help kids that are afraid in the dark.
In general, this product is good value for money!
Disclaimer: All thoughts and opinions are my own and have not been influenced in any way by ZAZU Kids.
Margot Buitenhoven